ONLINE DONATION IS AVAILABLE through the following:
ZELLE: through online banking, send to [email protected]
Venmo: https://venmo.com/marystaroxnard

How it works:
For more info on Zelle, click HERE.
For more info on Venmo, click HERE.

You may also donate through Square using a credit card.
Please visit mary-star-of-the-sea-church.square.site and select the Donate button.
Mail Donations to:
Mary Star of the Sea Catholic Church
463 W. Pleasant Valley Road, Oxnard, CA 93033

NOTE:
If you have envelope #, please include it as a memo. Thank you for your generosity and support!


---
Brothers and Sisters,

Mary Star of the Sea needs you! During this very challenging time, now more than ever, our parish needs our financial support to continue paying for maintenance and expenses such as utilities, insurance, etc. Let us be generous and give our offerings and gifts to our parish.
You may still give your donations when you attend Mass, or drop them off at the office mailbox.
Let us all be loyal and faithful "Stewards of God". Some might be able to give more than others, but let us all give with the same mercy God gives us. Thank you for your generosity and prayers. May God bless us all.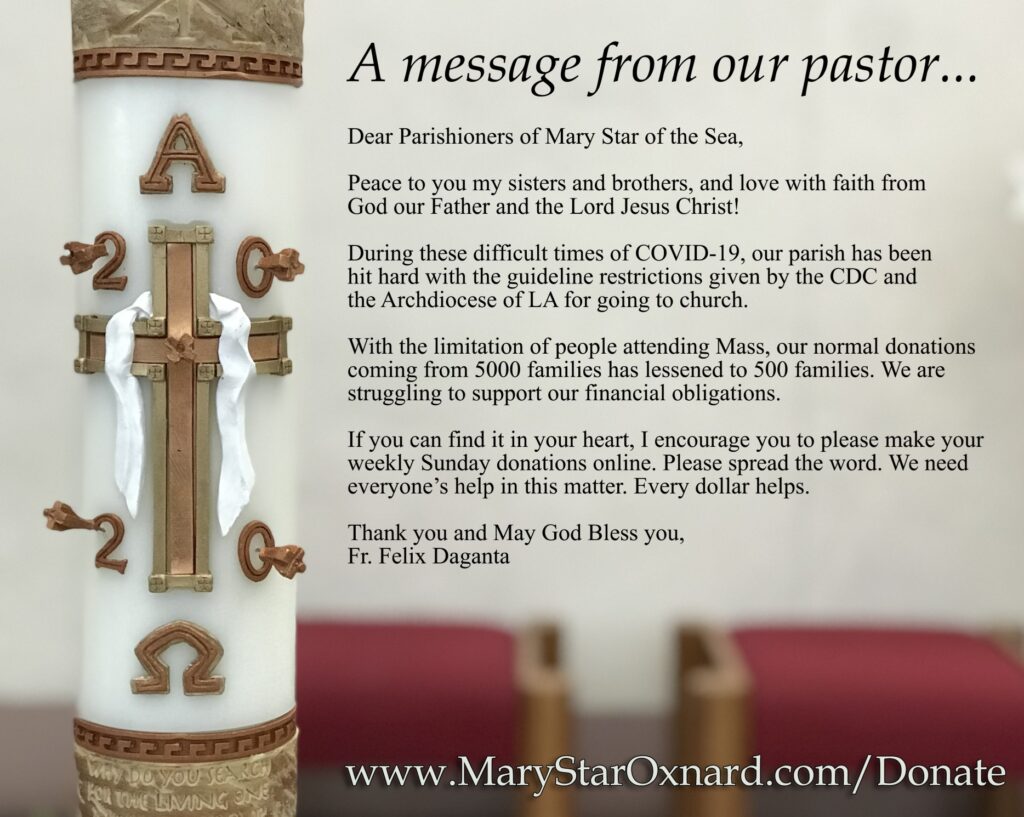 ---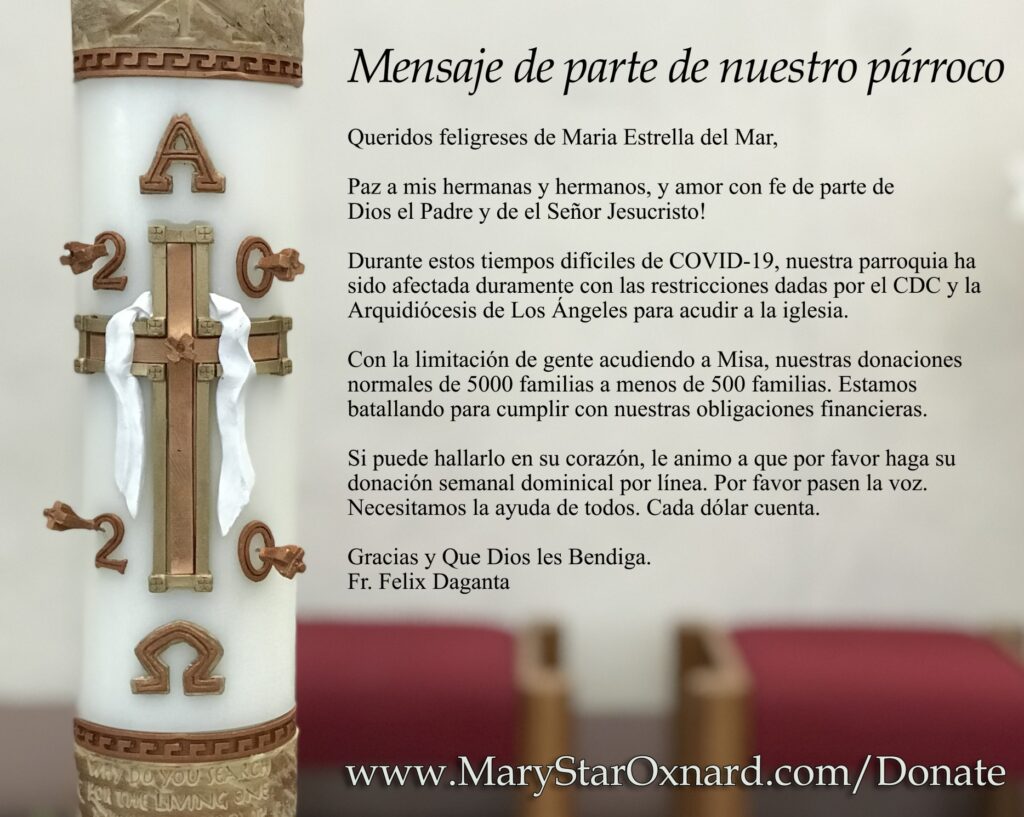 DONACIONES POR LÍNEA PARA LA PARROQUIA
Hermanos y Hermanas,
Maria Estrella del Mar necesita de ti! Durante estos tiempos difíciles, ahora más que nunca, nuestra parroquia necesita de nuestro apoyo financiero para continuar pagando mantenimiento y gastos como utilidades, aseguranza, etc. Seamos generosos y demos nuestra ofrenda a nuestra parroquia. Seamos generosos demos nuestras ofrendas y a nuestra Parroquia recuerden que antes emos necesitado de nuestra Parroquia hoy nuestra Parroquia necesita de nosotros, recordemos que lo que temenos viene de Dios y hoy es la prueba de poner a trabajar los dones que el Señor nos a confiado. Abramos el Corazon con generosidad como nuestro Señor lo abre con nosotros. Seamos leales y fieles "Administradores de Dios". Algunos podrán más otros menos, pero todos demos con la misma misericordia con la que Dios nos da. Gracias por su generosidad y oraciones. Dios nos bendiga a todos. Ahora podemos donar por línea! Favor de visitar Venmo o mary-star-of-the-sea-church.square.site y selecionar el buton de DONACION. Aún pueden dar su donación cuando acuden a misa, o dejarla en el buzón de la oficina.

BACK TO HOME