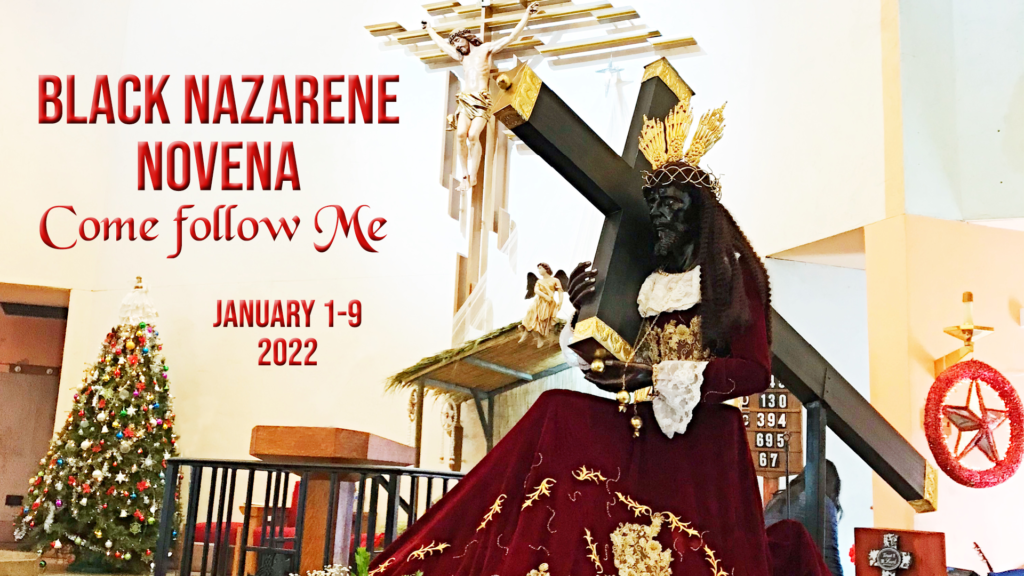 Come and join us at the Black Nazarene Novena on January 1 to January 9, 2022.

Saturday, January 1, 4:00 PM
Sunday, January 2, 4:00 PM
Monday, January 3, 5:30 PM
Tuesday, January 4, 5:30 PM
Wednesday, January 5, **5:15 PM** (combined with Our Mother of Perpetual Help Novena)
Thursday, January 6, 5:30 PM
Friday, January 7, 5:30 PM
Saturday, January 8, 4:00 PM

Sunday, January 9, 3:00 PM
*** Mass/Novena followed by a Procession
*** Devotees may bring images of the Black Nazarene to mass to be blessed.



Info:
The Black Nazarene (Spanish: El Nazareno Negro, Nuestro Padre Jesús Nazareno, Filipino: Poóng Itím na Nazareno, Hesus Nazareno) is a life-sized image of a dark-skinned, kneeling Jesus Christ carrying the Cross. It is venerated by many devotees.

The Black Nazarene was originally carved by an unknown Mexican artist from dark wood in the 16th century and then brought to the Philippines in 1606. It depicts Jesus en route to his crucifixion. Pope Innocent X granted recognition to the lay Confraternity of Santo Cristo Jesús Nazareno in 1650 for the promotion of the devotion to Jesus through the icon.

At Mary, Star of the Sea, Catholic Church, we continue this devotion. Let us all follow our Lord, Jesus Christ.
To receive notifications, Like and Follow us on Facebook: https://www.facebook.com/MaryStarOxnard
Save the dates and receive reminders on the Black Nazarene Novena Event page by responding "Interested" or "Going" at https://fb.me/e/1qlArJGSh


If you are able to help our parish, please consider donating online. Click on the button below for more information.
Thank you! Muchas gracias! Maraming salamat, po!